Dispelling Adoption Myths
May 16, 2023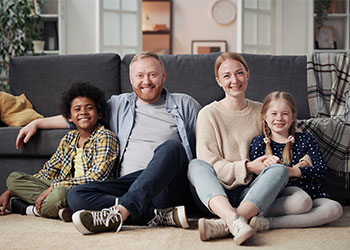 Adoption is a beautiful way to build your family and give a child a forever home. There's a huge demand for adoptive parents - in the state of Texas alone in 2021, there were more than 28,753 children in foster care and 5,925 waiting for adoptive families.
The need is clearly there. However, there are many myths and misconceptions that can lead to confusion and anxiety during the adoption process.
That's why it's vital to prepare yourself with the correct knowledge - and seek the guidance of a family law attorney or adoption attorney in Texas. At James P. Peterson Attorney at Law, the attorney has everything necessary to assist you while keeping your best interests in mind.
Attorney James P. Peterson proudly serves clients in San Antonio, Boerne, and New Braunfels, Texas.
Overview of Adoption in Texas
In Texas, three types of adoptions are legal, namely, agency adoption, private adoption, and international adoption. An agency adoption involves an adoption agency placing a child up for adoption.
The agency will then find a suitable family to adopt the child. In private adoption, the birth parents choose the adoptive parents for their child. The adoption process is usually facilitated by a private lawyer or a much more expensive adoption agency.
International adoption, on the other hand, involves adopting a child from another country. That child is often re-adopted when they come to Texas. Texas will issue an new birth certificate.
The adoption process in Texas is mainly governed by the Texas Family Code and requires you to follow the legal adoption process. The process can take anywhere from six months to one year, depending on the type of adoption you choose.
Common Adoption Myths
Adoption can be, but should not be a daunting and emotional process, and with so many myths circulating about it, it can be hard to know where to start.
Here are some of the most common myths/misconceptions about adoption - and the truth behind them.
You Need to Be Married to Adopt
Adoption agencies and state laws consider single applicants on an equal basis with married couples. Single people can adopt and provide loving homes for children just as well as couples can.
In fact, some children are actually better suited to single-parent homes depending on their unique needs and experiences. Don't let your relationship status hold you back from considering adoption as a viable option.
You Need to Be a Certain Sexual Orientation to Adopt
Another myth that needs to be debunked is that LGBTQ individuals and couples cannot adopt. Adoption agencies and state laws do not discriminate against individuals based on their sexual orientation or gender identity.
LGBTQ people can adopt as a couple or as a single parent. The most important factor in adoption is the ability to provide a safe and loving home to a child who needs it – regardless of sexual orientation or gender identity.
You Need to Own a Home to Adopt
You do not need to own a home in order to adopt. Many adoptive families raise happy and healthy children in rental properties or apartments.
What is more important is that you can provide a stable and safe home environment for a child and have enough space to meet their needs. Your adoption agency or attorney can provide guidance on the specific housing requirements in your state.
The Birth Mother Can Take the Baby Back at Any Time
Once an adoption is final in court, the birth mother's parental rights are terminated, and the adoptive parents become the legal parents of the child. However, in some cases, a birth mother may have a small window after signing away her rights, to change her mind about the adoption.
This is known as a "revocation period," and the length of time , usually ten days, may vary depending on the specific details of the adoption. This is very rare and would occur at the beginning of the adoption process before the adoptive couple would have had the child 14 days. A reliable adoption attorney can direct you through the intricacies of this process.
Adopting Takes Years
Another common myth surrounding adoption is that the process takes years to complete. While it's true that adoption is a lengthy process, it doesn't have to take years. Depending on several factors, such as the type of adoption, the age of the child, and other factors, adoption can take as little as several months.
The adoption process can be lengthy due to the requisite screenings, background checks, and home visits that must be conducted. However, by working with an experienced adoption attorney, the process can be streamlined and expedited for aspiring adoptive parents.
There Is Little Financial Assistance Available
Many aspiring adoptive parents hold off on adoption due to the belief that there is little financial assistance available. However, several programs and financial incentives are available for families hoping to adopt.
For instance, there are tax credits, subsidies, and grants available to families adopting non family members or children with special needs or those who face significant financial hardship. By working with an adoption attorney who is well-versed in the programs available, families can explore all their adoption options.
Only Infants and Young Children Are Adopted
A final myth surrounding adoption is that only infants and young children are adopted. In reality, children of all ages, including teenagers and older siblings, are available for adoption.
In fact, there's a growing trend towards the adoption of older children and sibling groups, who often have difficulty finding forever homes.
By adopting older children and sibling groups, aspiring adoptive parents can play a vital role in helping these children overcome their emotional and psychological challenges, providing them with a stable, loving home, and paving the way to future success.
And do not forget about adopting an adult step child.
Dedicated Legal Counsel
Adoption is a beautiful thing. It's a process that can bring endless joy and happiness to both the child and the adoptive parents. However, the adoption process can also be incredibly complex and stressful, especially if trying to navigate it without experienced, knowledgeable legal counsel. An adoption attorney can help make the process almost seamless and certainly less stressful.
If you're looking for an experienced and knowledgeable adoption attorney in Texas (usually in San Antonio, Boerne, or New Braunfels), then Attorney James P. Peterson is here to help. He has a client-focused approach that can make your adoption journey a enjoyable success.
If you're ready to grow your family, give Attorney James P. Peterson a call today.